Welcome to Rail Riders
The Railway Club for Everyone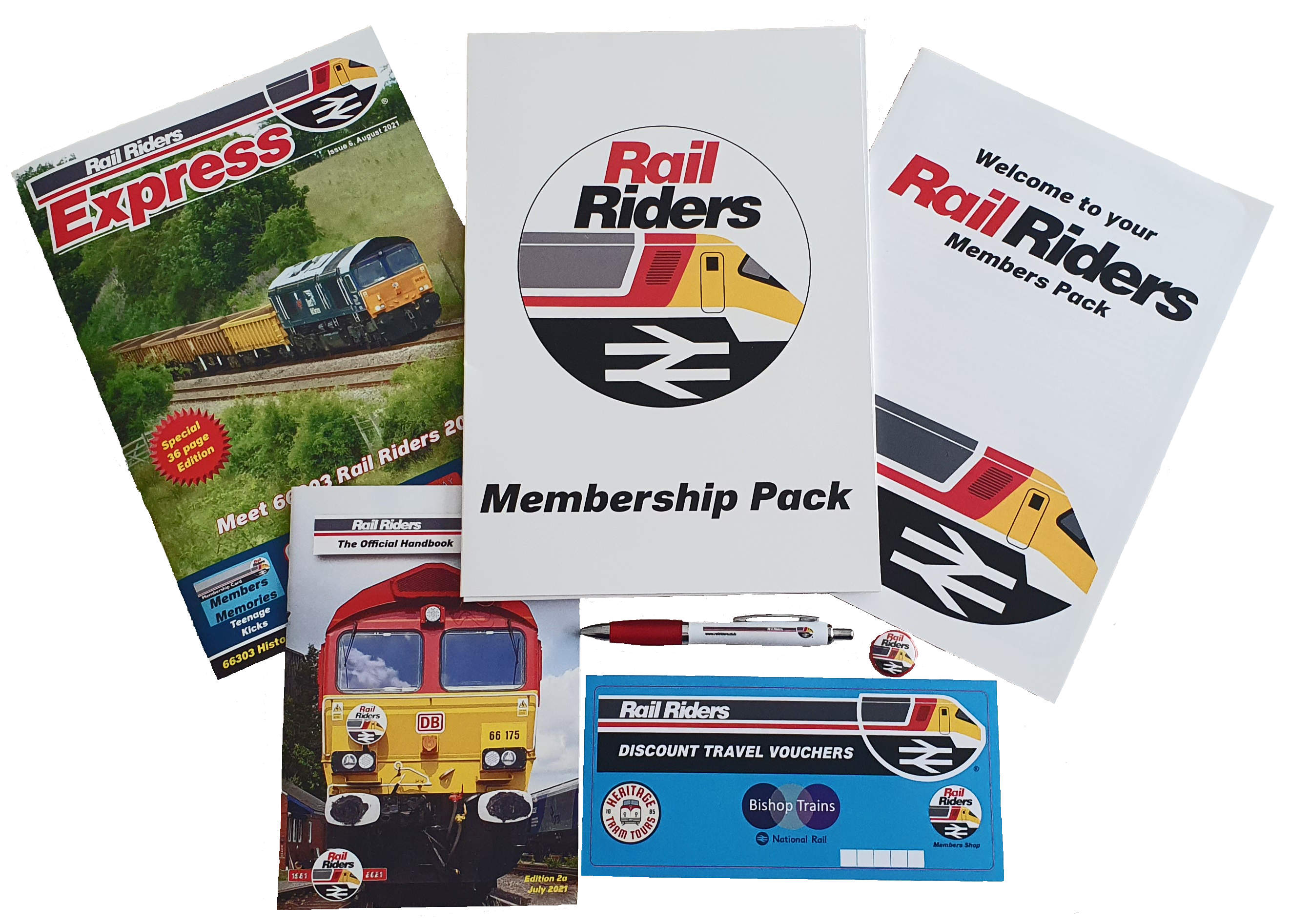 Benefits to being a member of
Rail Riders
12 Months membership
£15 worth of National Rail Travel Vouchers (£25 for Family memberships)
4 issues of the clubs magazine 'Rail Riders Express'
56 page official Club Handbook & Voucher Book + Pen & Badge
Membership card that gains you discounts at 75 Railways & Museums and over 62 Railway Themed Businesses
Access to members only events and one off discounts at exhibitions + 12 emailed newsletters
Find Out More
Upcoming events
Rail Riders Railway Show 2024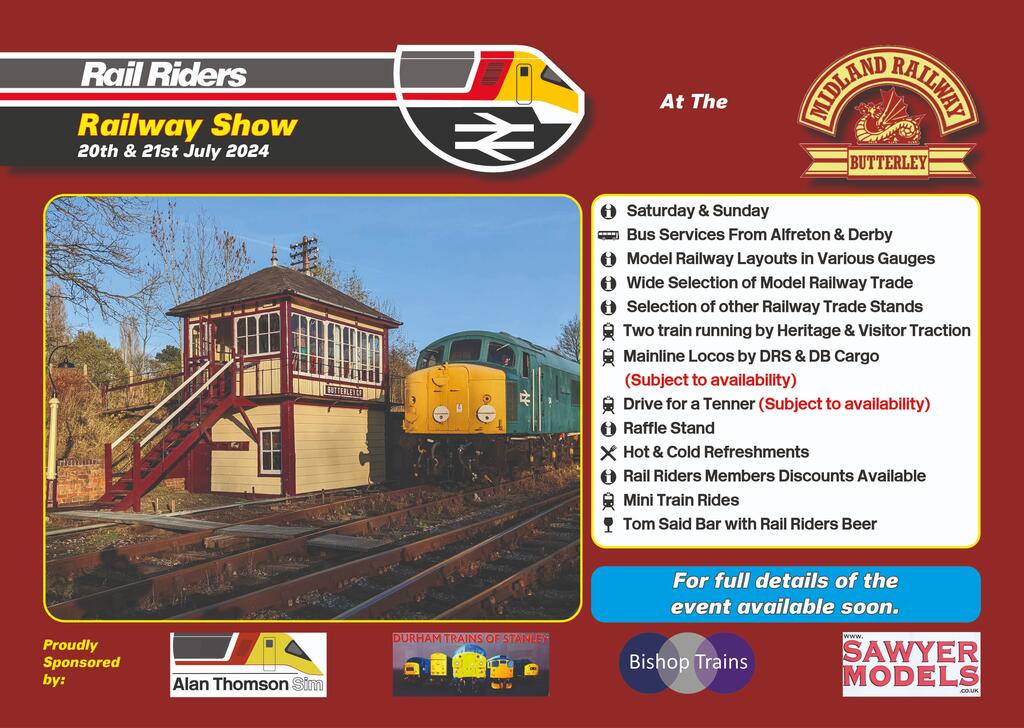 Rail Riders Railway Show 2024
We are pleased to announce the Rail Riders 2024 Railway Show will be held at the Midland Railway - Butterley on the 20th & 21st July, which will be open to both club members and the general public.The weekend has kindly been sponsored by Alan Thomson Simulation, @Durham Trains Of…
Read more
Upcoming events
Merehead Depot Visit 11th November 2023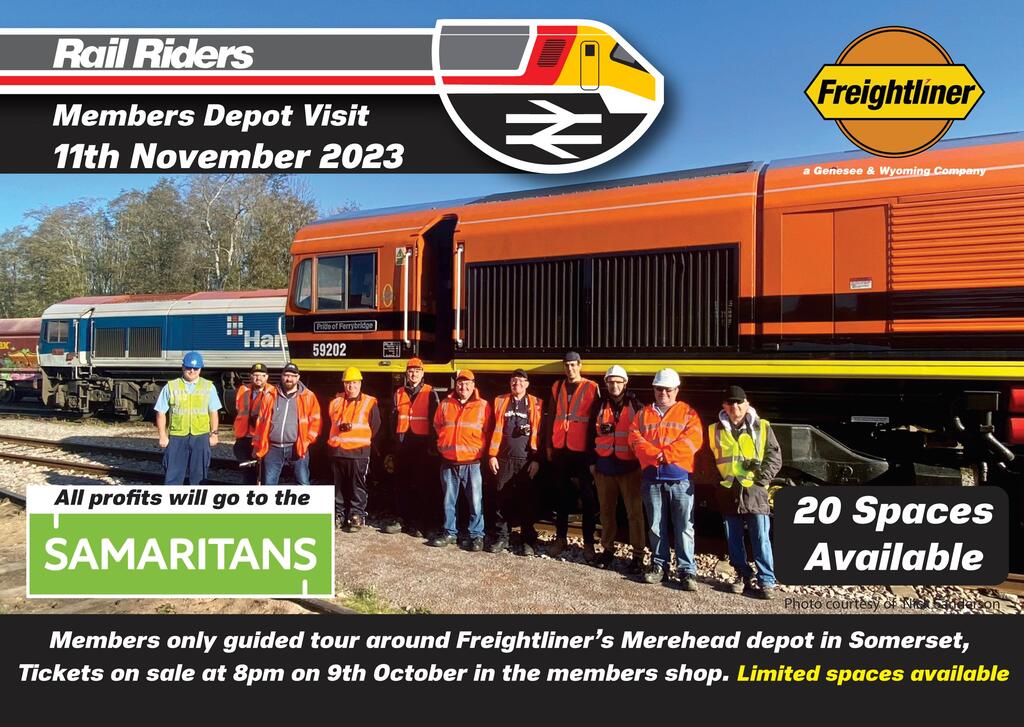 Merehead Depot Visit 11th November 2023
Our second members tour of Freightliner's Merehead Depot in Somerset will take place on the 11th November 2023. This visit is limited to 20 places. Tickets go on sale at on the 9th October 2023 at 8pm in the members shop. Tickets will be £20 each, with all profits going…
Read more
Membership Levels
Why not sign up for membership now.
Family
(2 Adults / up to 3 children)
---
The family membership is valid for 2 Adults and up to 3 children aged under 16 years.
Sign up now
---
If you have a loved one or a friend who likes railways why not buy them a 1 years membership?
Sign up now

Rail Riders
The Happiest Club in the Land.
We are a general railway club, that offers members the chance to gain discounted travel on heritage railways and further discounts from a wide range of railway themed businesses.
Find out more
Some of many
Testimonials
A great club, brought back from extinction. Loads of offers coming up too, i cant wait to make use of some of them.
Andy Strathie
Verifed Buyer
A great product with fantastic service. I purchased family membership as a present 2 days before Christmas and the members pack arrived within 24 hours. And in time to be packed for the big day. We have joined to take advantage of the many discounts negotiated by Rail Riders on preserved and miniature railways in the UK. We cant wait to get going in 2022.
John Bellamy
Verifed Buyer
Such a great team to be part of and so many railway trips and soooo many friendly members and staff
George Stephens
Verifed Buyer