Class 58 Locomotive Group attending Rail Riders 2023 Rail Show
The Class 58 Locomotive Group are pleased to confirm their support and attendance at Rail Rider's 2023 Rail Show over the weekend of Saturday 10th & Sunday 11th June 2023, being held at Crewe Heritage Centre.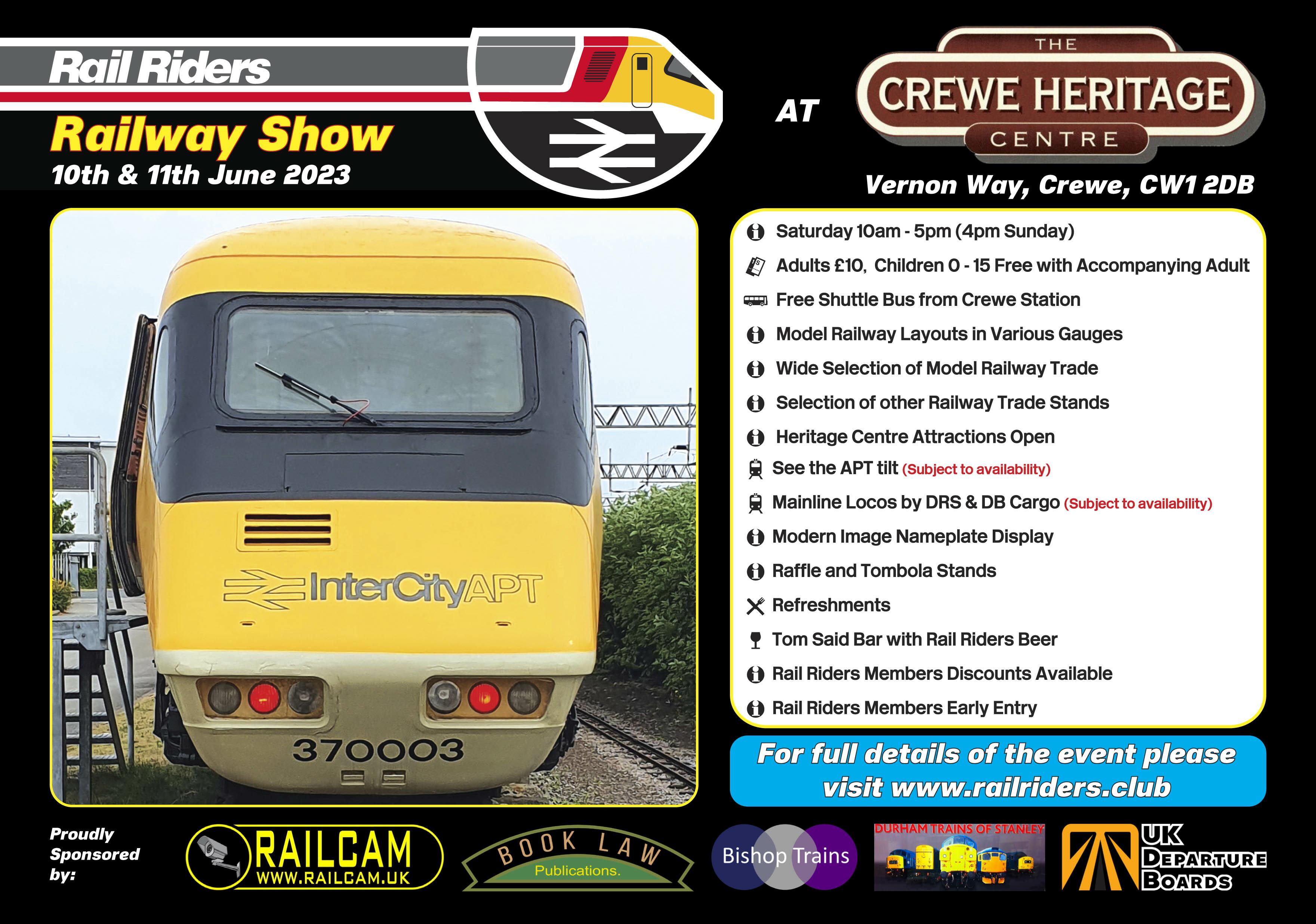 The event, which is primarily concentrating on all things modern image, from the early diesels and electrics right up to the modern railway of today, plans to bring together a large selection of full-sized and model railway exhibits; with several surprises planned.
Accompanying our sales and display stand at the event shall be the first public appearance of group member Martin Baker's recently cosmetically completed Class 58 Locomotive cab; one of the two additionally produced by British Rail during the original Class 58 build programme in the 1980s. Excellently now displaying the original style Railfreight livery as '58001', the cab was originally rescued from Booths scrapyard in Rotherham in 2006; having been dumped outside Doncaster Works for 20 years. Since acquiring the cab and several items sourced by the previous owner; Martin has fitted out the cab externally, with a fabricated red plinth made for it to sit on, to mimic the locomotive solebar. Work to the interior of the cab is Martin 's final job to complete. As the cab is painted to represent the first member of the Class, which was formally unveiled by British Rail back on Thursday 9th December 1982, we are excited for it to be displayed as part of our Class 58 40th Anniversary celebrations.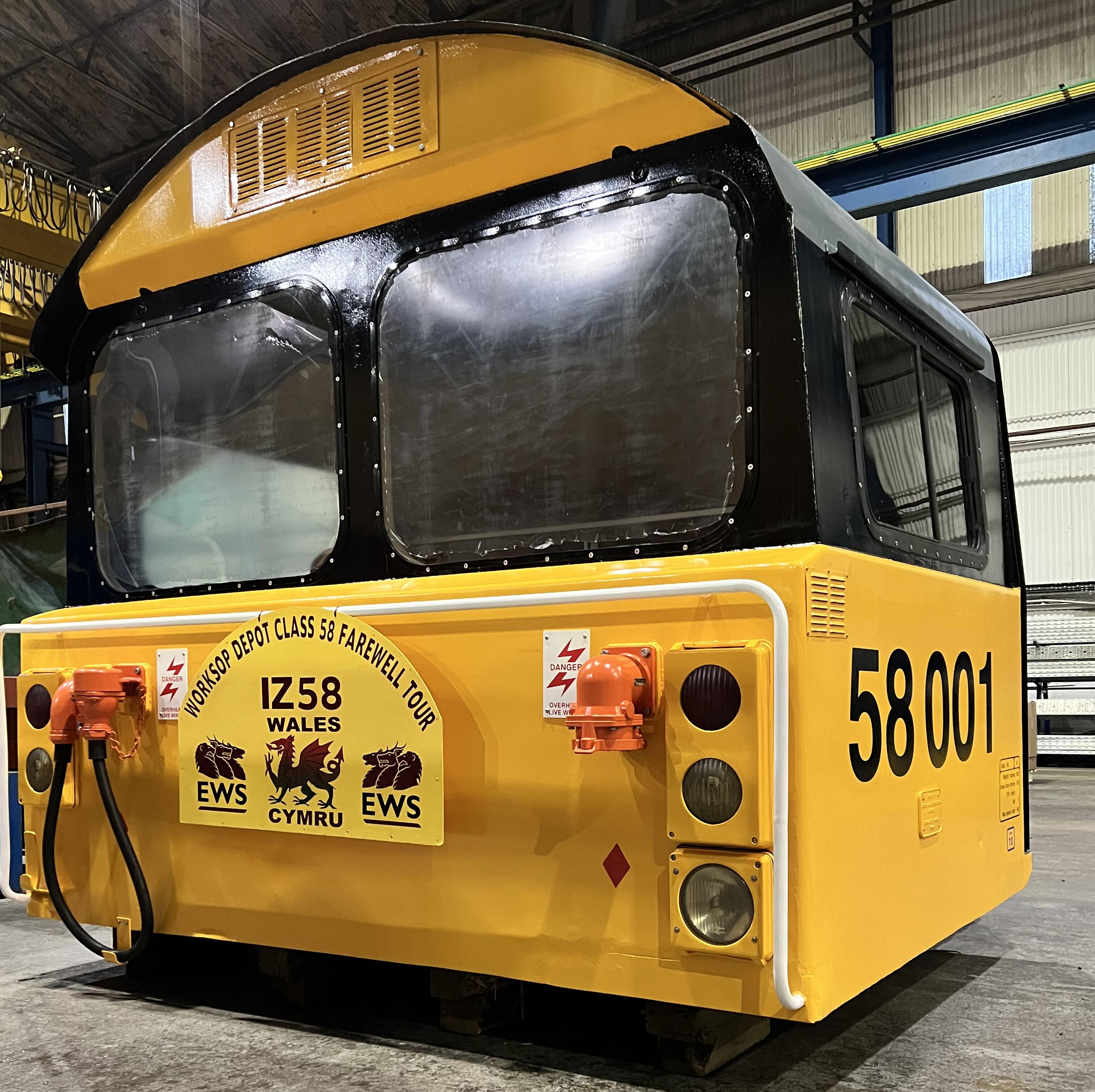 The Class 58 Locomotive Group committee are still supporting Martin in trying to find a suitably publicly accessible heritage railway or centre location as a permanent home for the cab and any enquiries in relation to this should be made to publicity@class58loco.group
The original Rail Riders club was launched in 1981 and ran for 10 years until its closure in 1991, however in 2019, after a period of nearly 30 years, the club was re-launched by Simon Buxton and whilst it is completely unconnected to the original incarnation, the ethos remains the same, being the "railway club for everyone". Membership to the new Rail Riders club, either as an individual or family, entitles members to a wealth of benefits, including national rail travel vouchers,
regular copies of the club's magazine, an official handbook, voucher book, a pen and a badge, together with a membership card that entitles you to discounts at numerous railways and museums, plus railway-themed businesses across the country. Finally, members have access to members-only events, such as depot visits and exhibitions, plus priority access to the 2023 Rail Show at Crewe Heritage Centre.
During 2022 the Class 58 Locomotive Group established a partnership with Rail Riders, with our members having the opportunity to join at a discounted rate, something which is proving very popular.
To find out more about Rail Riders and their forthcoming Rail Show please visit: www.railriders.club/blog/rrshow2023
We look forward to being part of and seeing you at Rail Rider's 2023 Rail Show.
Regards
Chris Lowe
Publicity Officer
Class 58 Locomotive Group
publicity@class58loco.group