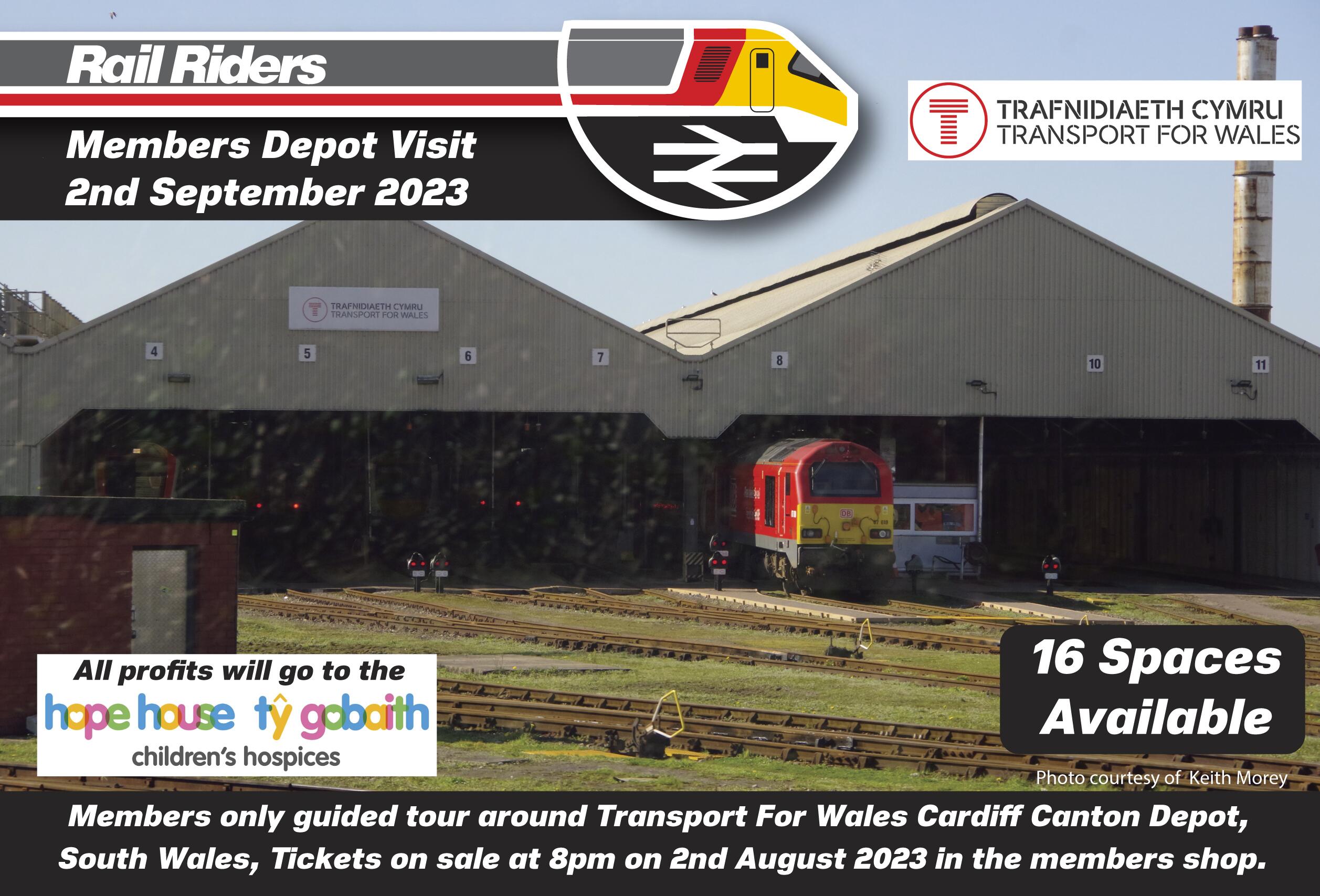 We are pleased to announce that we have arranged with Transport for Wales, a members only tour of their Cardiff Canton depot.
The visit will start with a full tour of the working depot, were members will see all the comings and goings of an operational maintenance depot, including light maintenance (fuelling etc.) heavier maintenance (component changes) and possibly tyre turning on the wheel lathe obviously all dependant on that days work activities.
Also there will possibly a look around internally of some the fleet that is stabled on the day again dependant on what is on depot but should be most legacy fleets including cl.769's and mk4 coaching stock. plus also have some new Class 197s & 231's on site.
The tour is expected to last 2 hours. All profits will go to Transport for Wale's charity Tŷ Gobaith (Hope House) Children's Hospices. Please note that this tour is strictly for MEMBERS ONLY, and is limited to 16 people maximum. Please be sensible when booking your place and not buy more places than you need. Those members that were on last years visit are asked to give other members a chance to gain a place.
All visitors should wear stout footwear and a hi viz jacket. The site will be working during the tour and all instructions from the guides must be followed without question. UKRL and Rail Riders will be unable to supply hi viz jackets.
Photography is allowed during the tour, however they must be for your own personal use ONLY and cannot be published in any media, printed or online.
Our tours are arranged for members only, so why not sign up for a membership today and gain all the benefits of being a member including the chance to take part on our members tours of railways and depots and other special things the ordinary enthusiast cannot do, go to our website Rail Riders for more details.