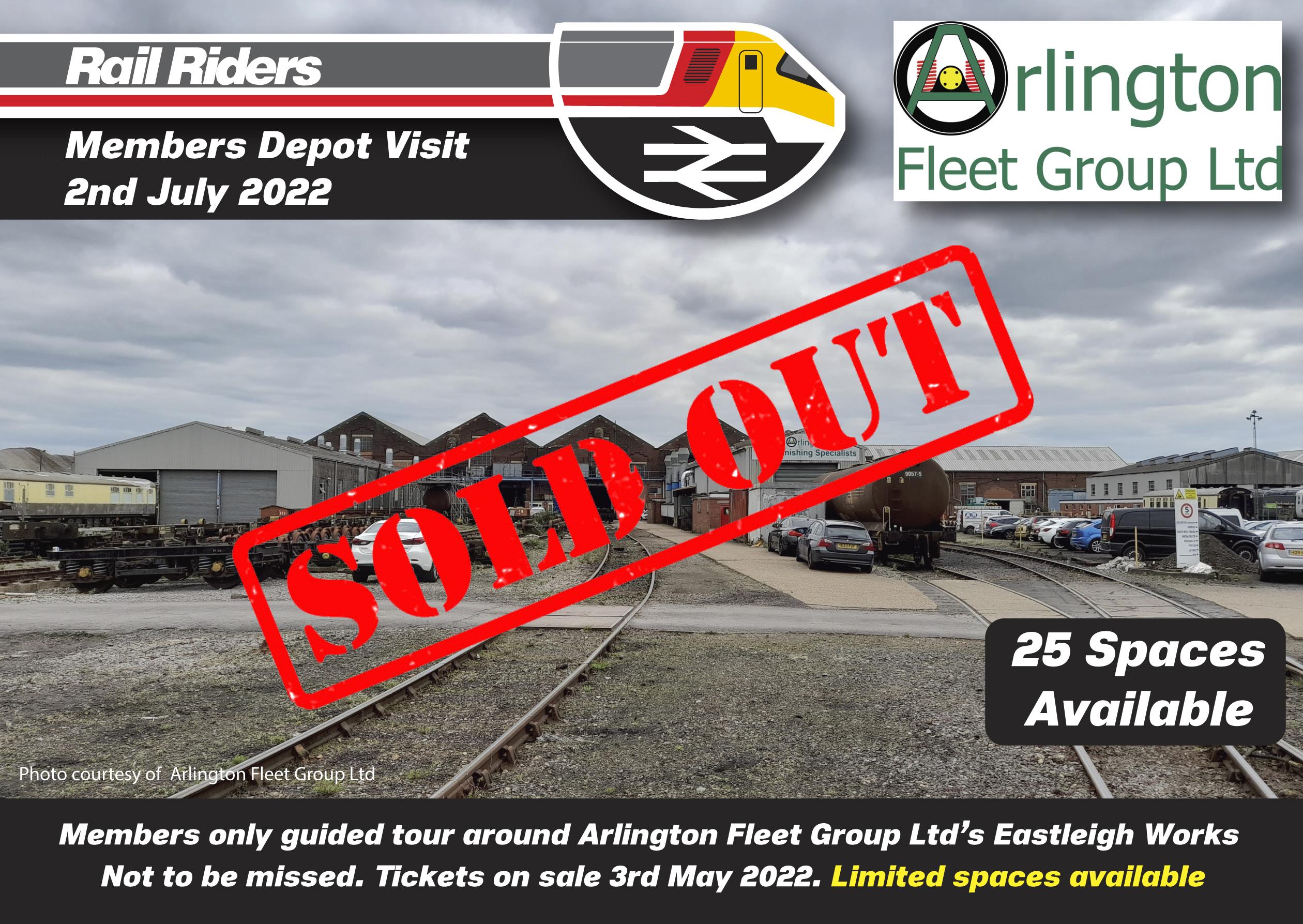 Thank you to all members that have booked their place on this tour in July. It is now sold out.
Our first members tour of Arlington Fleet Groups Eastleigh Works will take place on the 2nd July 2022. This visit is limited to 25 places. Tickets go on sale at 10am on the 3rd May 2022.
The tour start at the new entrance gate on Campbell Road promptly at 10:00 with a Safety Briefing from the Lead Guide. Members should arrive at least 15 minutes before. Minimum age is 12 and anyone under 18 must be accompanied by an adult who agrees to take full responsibility for the young person. The yard has 750V electrified 3rd rail which will be on during the tour. Traffic on site can be busy with many vans and HGVs present. Tours typically last between one and two hours.
All visitors should wear stout footwear and a hi viz jacket. The site will be working during the tour and all instructions from the guides must be followed without question. Anyone without a hi viz jacket will be restricted to just the roadways and walking routes. Both Arlington and Rail Riders will be unable to supply hi viz jackets.
The aim is to see as much of the site as possible but Arlington's cannot guarantee access to any particular area or item of rolling stock during the tour. Some of the tenants do not allow visitors to enter their areas so the guide will show the best viewing points to see as much as possible in those areas.
Photography is allowed for the most part and the Safety Briefing at the start will identify any rolling stock or areas where photography is not allowed. All photographs and video taken during the event must be for your own personal use ONLY and cannot be published in any media, printed or online.
There is no car parking available on site, except for Disabled badge holders. There are plenty of car parks in Eastleigh town centre. Just follow the signs. The nearest ones to the Works are opposite the station and just further down the main road at the Swan Centre. There is also a small pay and display car park just south of the Campbell Road junction, between the main road and the railway line.
This tour will be for members only, why not sign up for a membership today and gain all the benefits of being a member including the chance to take part on our members tours of railways and depots and other special things the ordinary enthusiast cannot do. Visit our website Rail Riders to sign up for your very own membership