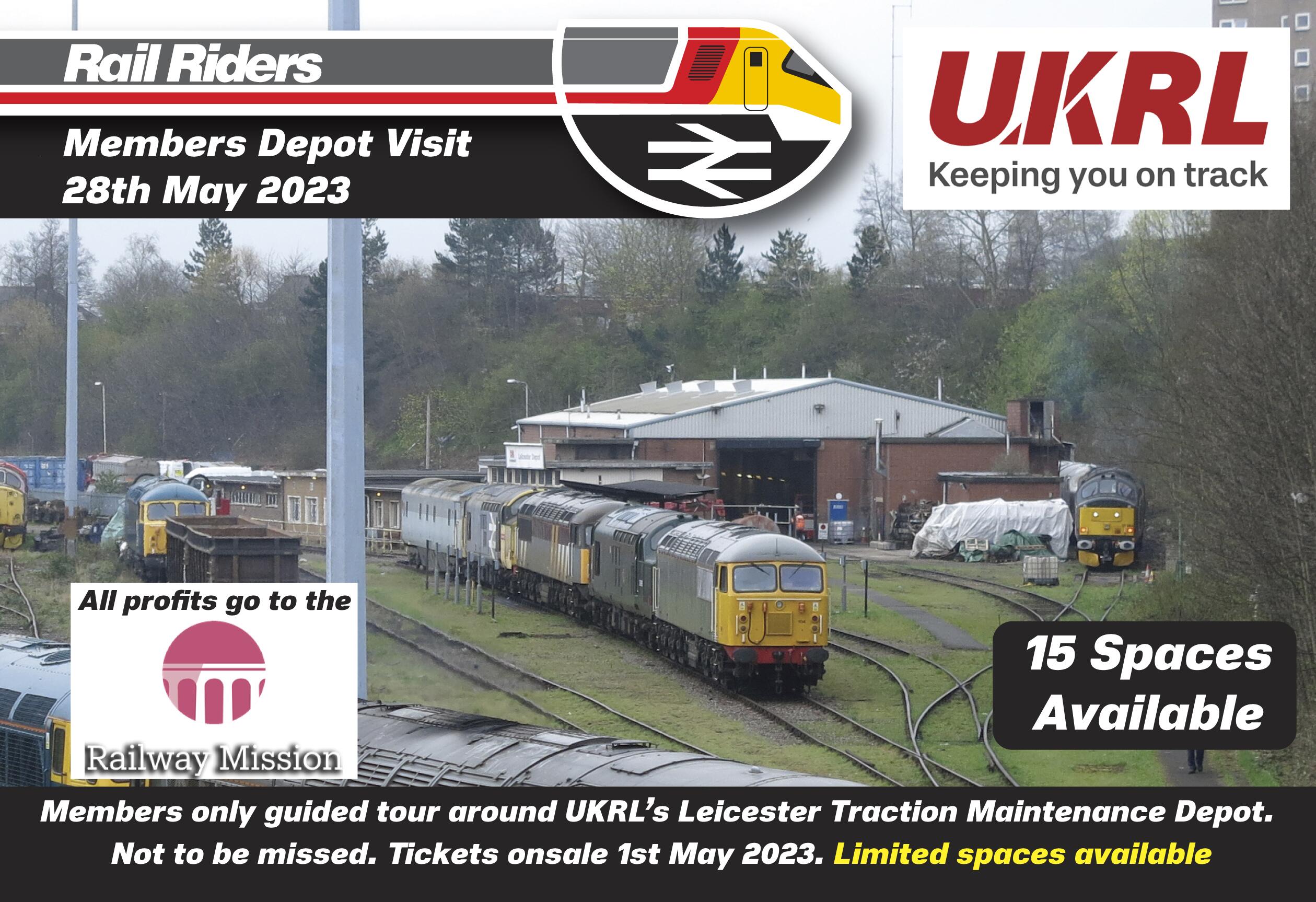 Our first members tour of UKRL's Leicester depot will take place on the 1st May 2023. This visit is limited to 15 places. Tickets go on sale on the 1st May 2023 at 6.30pm in the members shop. Tickets will be £20 each, with all profits going to charity.
The meeting point for the tour is at the depot car park off Beal Street where a Safety Brief and checking in will be undertaken. All those on the tour should have their membership cards with them (No Card No Access). Members should arrive at least 10 minutes before the time given when purchasing a tour ticket. Minimum age is 14 and anyone under 16 must be accompanied by an adult who agrees to take full responsibility for the young person. The tour is expected to be 90 minutes in length..
All visitors should wear stout footwear and a hi viz jacket. The site will be working during the tour and all instructions from the guides must be followed without question. UKRL and Rail Riders will be unable to supply hi viz jackets.
The aim is to see as much of the site as possible but UKRL cannot guarantee access to certain areas due to construction work being undertaken on the site.
Photography is allowed for the most part and the Safety Briefing at the start will identify any rolling stock or areas where photography is not allowed. All photographs and video taken during the event must be for your own personal use ONLY and cannot be published in any media, printed or online.
This tour will be for members only, so why not sign up for a membership today and gain all the benefits of being a member including the chance to take part on our members tours of railways and depots and other special things the ordinary enthusiast cannot do. Visit our website Rail Riders to sign up for your very own membership