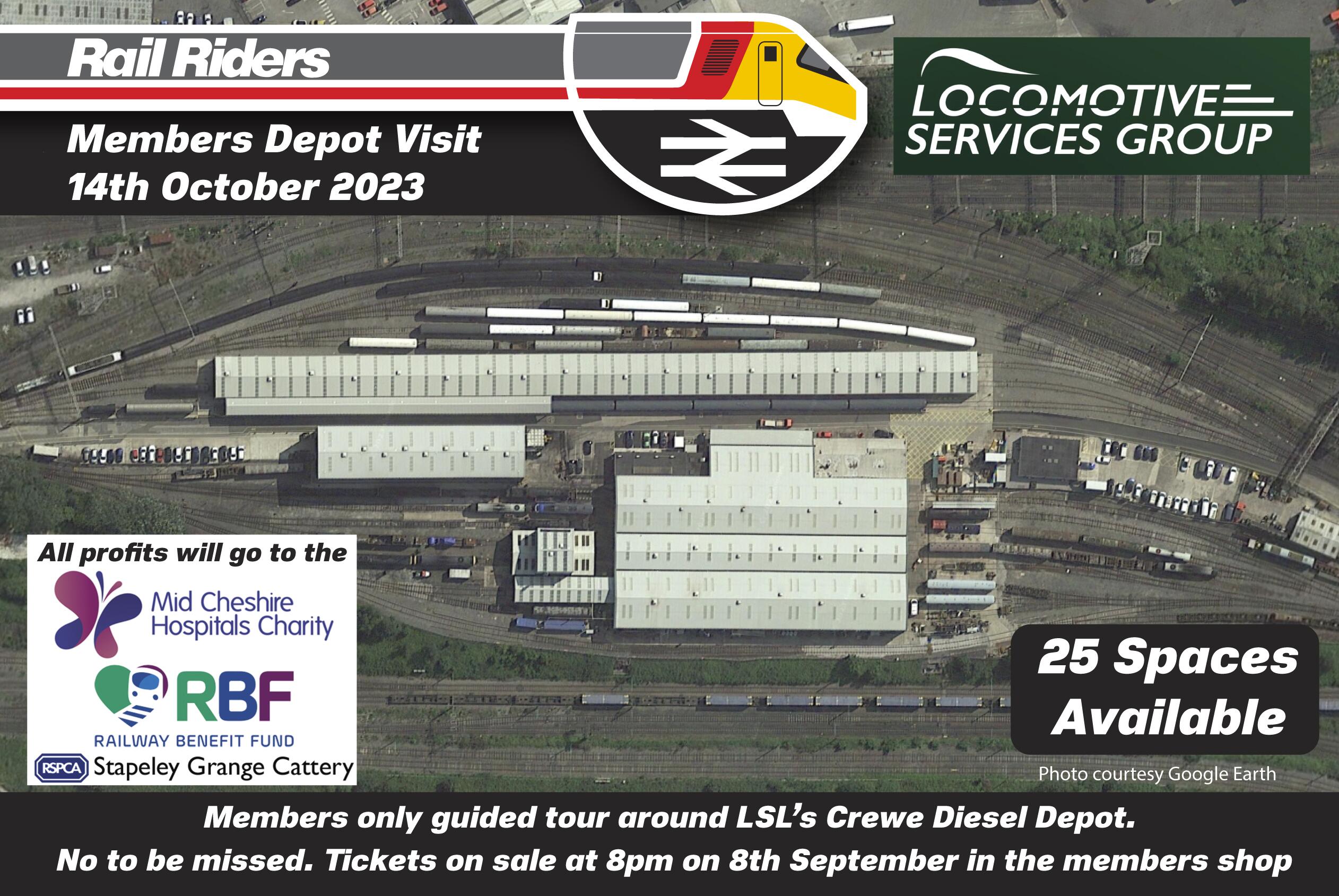 Our first members tour of Locomotive Services Limited's Crewe Depot will take place on the 14th October 2023. This visit is limited to 25 places. Tickets go on sale at on the 8th September 2023 at 8pm in the members shop. Tickets will be £25 each, with all profits split between the Mid Chester Hospital (Crewe), Railway Benefit Fund and Stapeley Grange Cattery.
The tour start at the depot entrance gate promptly at 10:00 with a Safety Briefing from the Lead Guide. Members should arrive 10 minutes before. Minimum age is 14 and anyone under 18 must be accompanied by an adult who agrees to take full responsibility for the young person. The tour typically last is expected to last 90 minutes.
All visitors should wear the following equipment for safety: Boots / Sturdy footwear. Safety Glasses, Orange Hi Vis Vest and Bump Cap. Both LSL and Rail Riders will be unable to provide this equipment. If you don't have the equipment listed then unfortunately you will be refused entry to the site.
The aim is to see as much of the depot as possible but LSL cannot guarantee access to any particular area or item of rolling stock during the tour.
Photography is allowed for the most part and the Safety Briefing at the start will identify any rolling stock or areas where photography is not allowed. All photographs and video taken during the event must be for your own personal use ONLY and cannot be published in any media, printed or online. However they can be shared on the Rail Riders Members Only Facebook Group.
This tour will be for members only, so why not sign up for a membership today and gain all the benefits of being a member including the chance to take part on our members tours of railways and depots and other special things the ordinary enthusiast cannot do. Visit our website Rail Riders to sign up for your very own membership