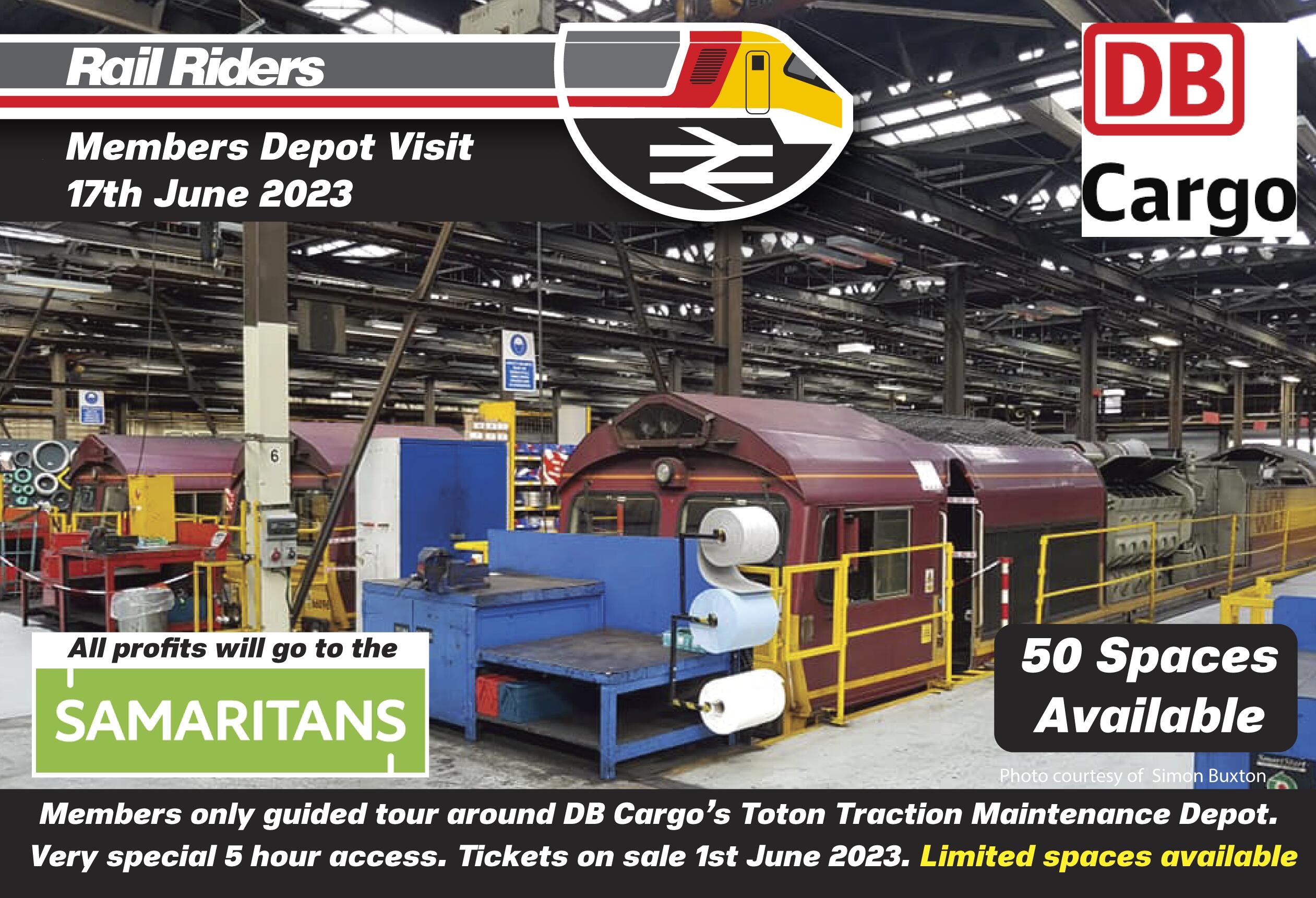 We are pleased to announce that we have a members only visit to Toton TMD which is to coincide with DB Cargo UK's Family Fun Day on Saturday, 17th June – this will give the 50 lucky members the best possible experience as on the day there will also have a number of BD Cargo's showpiece locomotives in attendance.
The family fun day runs from 11am to 4pm and active club members are welcome to join for the whole event. Profits from the ticket sales will be donated to DB Cargos chosen charity for , the Samaritans.
Club members will be given vouchers for refreshments on arrival (on offer will be hot and cold drinks, pizza, a hog roast, barbecue, ice creams and candy floss!) and there will be entertainment on the day.
All club members that are visiting the depot will meet at the Rail Riders exhibition stand at 12.30pm where one of Toton's managers will meet them and take them on a guided tour of the site and engineering depot.
Members that are on the tour will have to check in at the gate house by showing their valid members cards where security will issue entry wristbands and tickets.
From a safety perspective, it is required all members wear sturdy outdoor foot ware on the day and stay close to the guide throughout the tour of the site and engineering depot. There is no requirement for hi vi vests, bump cap, or safety glasses. Any member on medication are advised to carry it with them, it is to be noted that Toton is a big site so there will be lots of walking which may involved some uneven ground.
There is no restriction on photography on this visit and DB Cargo have given permission for you to share on websites and social media platforms so don't forget your cameras.
For safety reasons DB Cargo have stated the minimum age for the fun day is from toddler age and above but not babies.
Please note that this tour is strictly for MEMBERS ONLY, Due to DB Cargos security, your name and membership number will be shared with DB Cargo to gain entry to the depot.
This tour will be for members only, so why not sign up for a membership today and gain all the benefits of being a member including the chance to take part on our members tours of railways and depots and other special things the ordinary enthusiast cannot do. Visit our website Rail Riders to sign up for your very own membership.