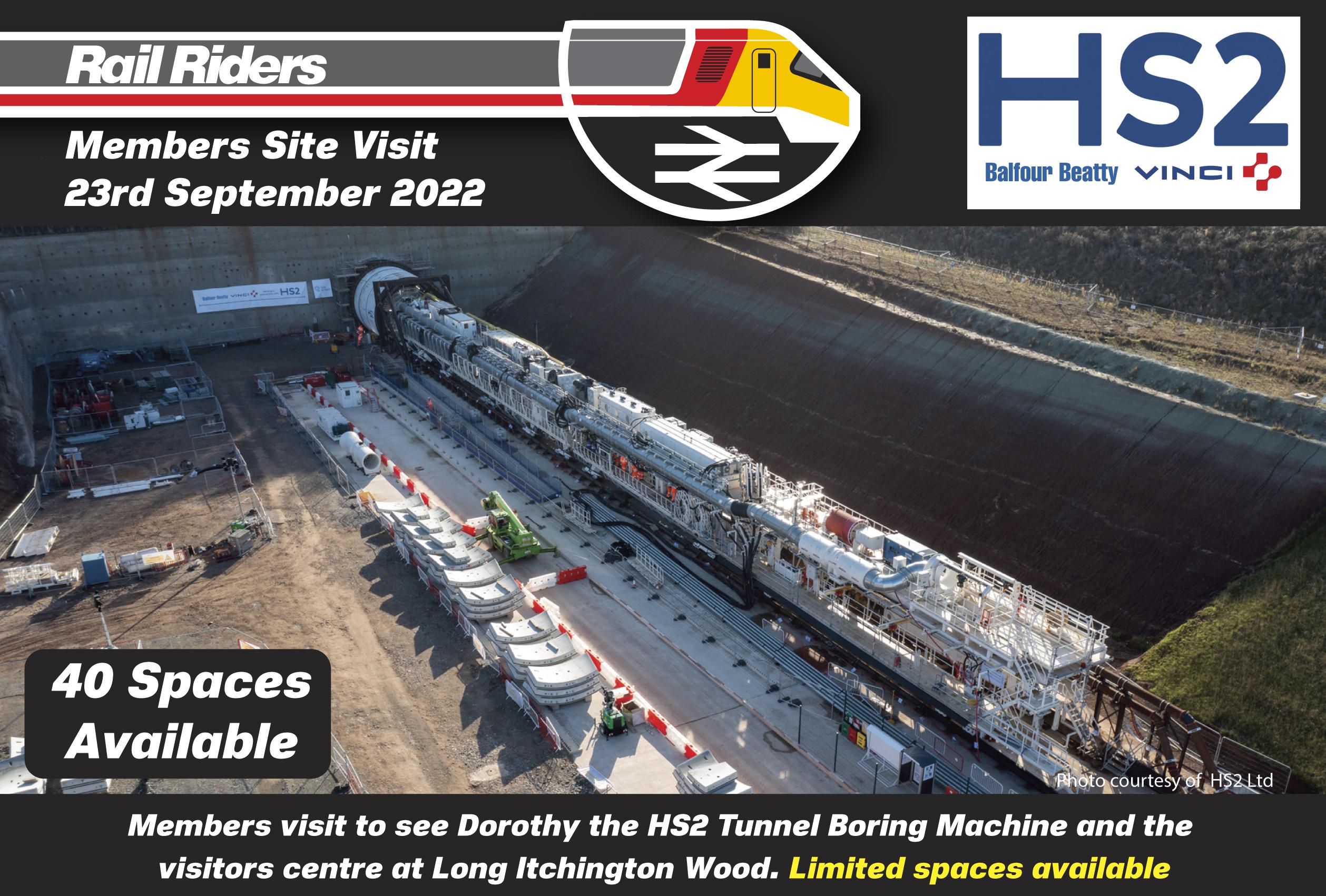 We have secured a visit to see Dorothy the HS2 tunnel boring machine and the onsite visitors centre at Long Itchington Wood on the 23rd September. We will be closing reservations at 18:30 on the 31st August 2022.
Due to HS2 being a publicly funded construction we are not allowed to sell tickets for this event, however we will be asking for donations to the chosen charity for HS2.
There will be two tours of 20 members each with the first starting at 11am and the other at 1pm, The Visitor Centre will give you a panoramic view of the construction site – including 'Dorothy' launch platform. The Visitor Centre also has a fantastic exhibition about the project and the works BBV are carrying out on our behalf in the area. There's also an interactive model of the TBM
Long Itchington Wood Tunnel is a 1.6km (1 mile), twin bore tunnel on the new high speed railway in Warwickshire. The tunnel will run under Long Itchington Wood in Warwickshire – an ancient woodland – and is an important part of HS2's environmental strategy to protect nature.
One tunnel boring machine, TBM Dorothy, is being used to create the tunnel and is the first TBM on the Midlands section of HS2. The construction team began by preparing the North Portal site ahead of the launch the tunnel boring machine, including major earthworks. Around 170 engineers have been working on the 2,000 tonne, 125m-long TBM during its construction and assembly. An expert tunnelling team will now work around the clock in shifts to operate the machine for around five months as it excavates the first bore of the one-mile tunnel.
This will be the first HS2 tunnel to be completed on the project, with the machine set to break through its first bore at the south portal in Spring 2022. It will then be disassembled and taken back to the north portal to dig the second drive, which is due to be completed in early 2023.
The final section will become a 'green tunnel' – also known as a cut and cover tunnel – where a soil 'roof' is built around the tunnel entrance to integrate the portal into the natural landscape. Once the route is built and the track and signals are in place, trains will head north from London and will leave the tunnel here before passing between Coventry and Kenilworth.