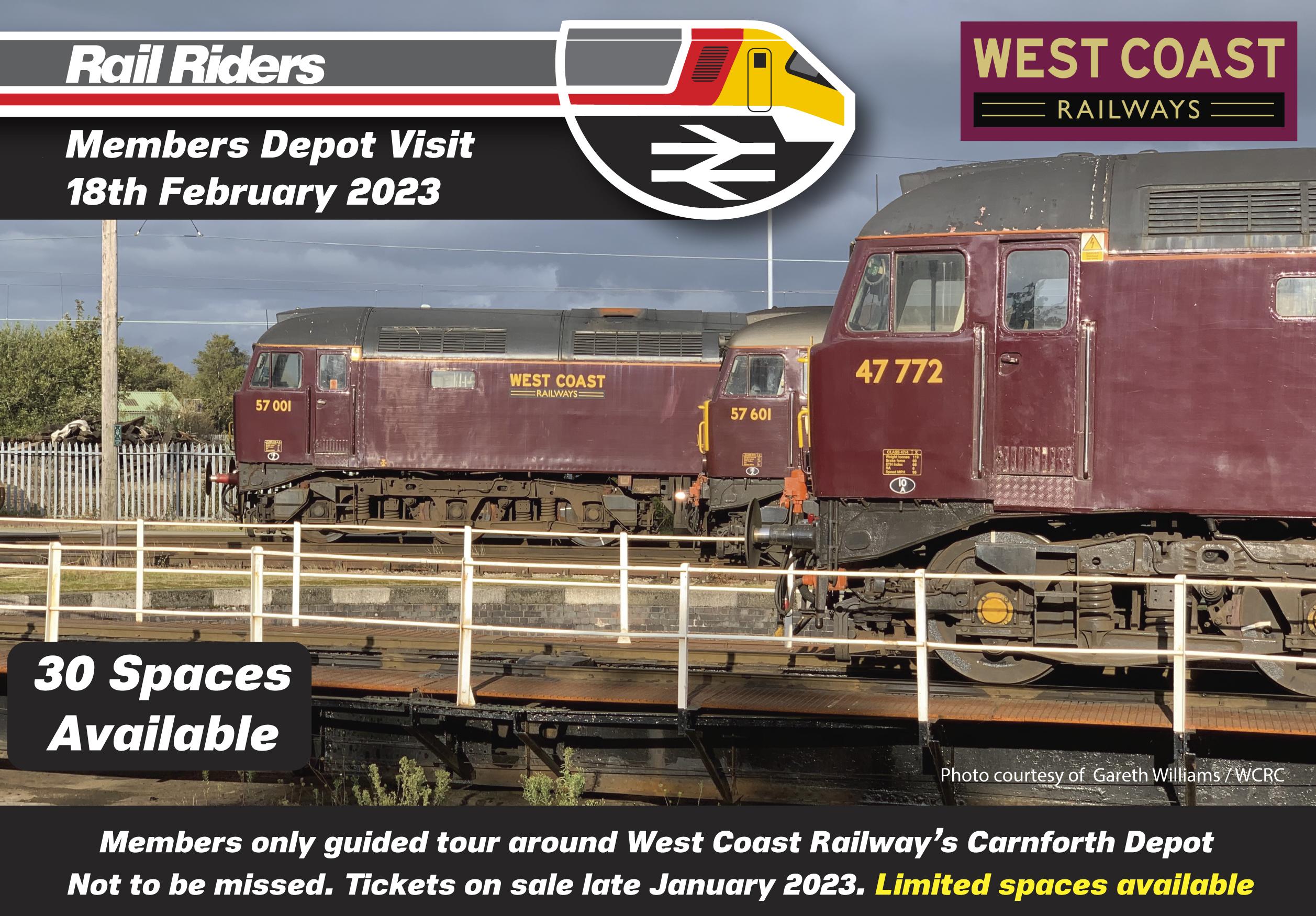 Our first tour of 2023 will see us return to the West Coast Railway's Carnforth depot which will take place on the 18th February 2023. This visit is limited to 30 places. This tour is strictly a members only event.
Members that are attending are asked to meet at the depot entrance gate off Jesson Way, Carnforth, LA5 9UR at 10:15 for a 10:30 start, there is ample parking on-site near the gate. For members traveling by train we will arrange for transport from the station to the depot if required, we ask you to inform us in the choices while purchasing a place on this tour and be in the station car park by 10:00 at the latest.
There is an age limit of NO ONE UNDER THE AGE OF 14 please.
The tour is usually over 3 hours in length and will cover all areas and buildings on site, please make sure you are fit enough to walk around 4 miles which will involve some uneven ground. Members are responsible for their own safety, please keep a look out were you walk and take no undue risks.
The tour is strictly on a guided basis as one group and we insist that people do not stray from the group as we walk around the site. There could be movements and shunting taking place which the whole group must keep clear of.
Members that will be attending MUST have the following safety equipment to attend the tour: Sturdy footwear / Safety Boots, Safety Glasses optional, High Vis Vest, and Bump Cap / Hard Hat. No equipment will be provided by either Rail Riders or West Coast Railways.
Although on site photography is allowed during the visit, West Coast Railways have requested no publishing either in magazines or on social media / internet, this needs to be strictly adhered to as any infringement is likely to affect future tours in a negative way.
Club members don't, don't forget that Carnforth Models gives you the 10% discount and the Brief Encounter Bistro & Bar on the station with a 10% discount for Hot food either before or after the visit, highly recommended. Both are listed in the club handbook.
Our tours are arranged for our members only, so why not sign up for a membership today and gain all the benefits of being a member including the chance to take part on our members tours of railways and depots and other special things the ordinary enthusiast cannot do, so why not go to our website Rail Riders for more details.